There are many reasons why businesses engage in currency exchange and international payments. Whether your business is paying for imported goods, receiving payment for goods or services sold abroad, paying overseas staff, repatriating overseas earnings, or simply making a one-off purchase, TorFX can help.
The currency market can be volatile and without careful management even routine exchange rate fluctuations can impact your company's profitability. If you want to protect your bottom line, we can help you take a proactive approach to managing your foreign exchange exposures.
Maximising your company's potential can be challenging, but connecting your business with excellent currency rates should be stress-free, simple and cost-effective. Whatever industry you're in, our business is saving you money.
TorFX can offer your business:
Forward Contracts – allowing you to fix your exchange rate for a future currency need, even if you don't have all the funds available today.
Order Types – so you can buy your currency at a predetermined level, or set a maximum or minimum buying rate.
Currency analysis by market professionals – tailored to fit the needs of your business.
Free transfers – with no hidden costs.
Excellent exchange rates – consistently saving you money.
If you want to learn more about how TorFX can help your business minimize risk and maximise opportunity read about our Risk Management Service.
For more information or a quote call our Corporate Team today on 1800 507 480
Business Transfers Brochure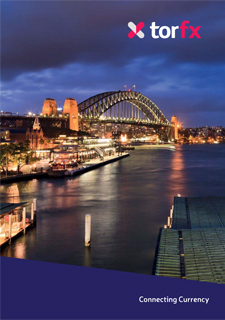 If you'd like more information about how TorFX can help your business save time and money on its international money transfers, please download our brochure.
Download Brochure